Much more information can be obtained from the blood pressure measurement procedure.


The Oranta-AO software package (PC) is implemented on the basis of the Arterial Oscillography method (DV Vakulenko, LO Vakulenko), which offers a new application for electronic pressure meters. The pulsations recorded in the cuff when measuring pressure carry much more information than the values ​​of blood pressure and heart rate.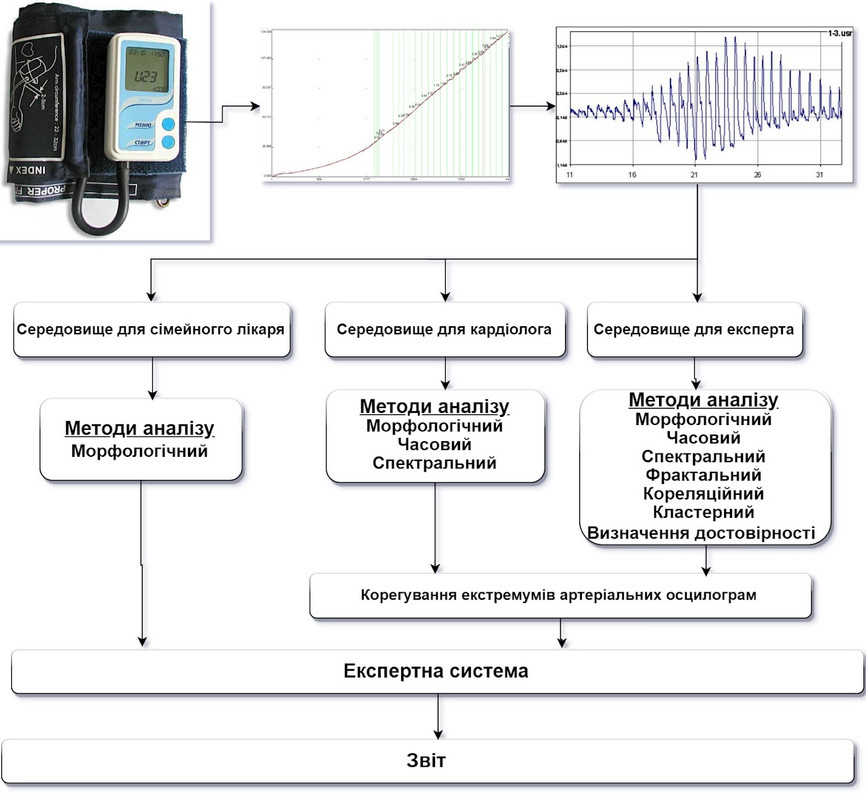 PC Oranta-AO allows you to assess the function of the heart, blood vessels, autonomic and central nervous system. The caused load by the squeezed cuff causes an adaptive reaction of an organism that gives the chance to estimate in addition adaptive potential, level of health, coherence of adaptive reaction of an organism.
The use of arterial oscillography makes it possible to:
Conduct a comprehensive assessment of the functional state of the cardiovascular system, its backup capabilities;
To study the condition of blood vessels: their tone, elasticity, quality of adaptation to different levels of compression when measuring blood pressure;
Assess the level of health, pre-disease, effectiveness of therapeutic, preventive and rehabilitation measures.
Determine blood sugar levels with an accuracy of ± 10%
Determine the indicators of some indicators of Blood by General and Biochemical Analysis, Coagglomeration, Vascular Stiffness, ECG, Rheogram, etc.
With the help of the Expert System it is possible to differentially diagnose the risks of heart, lung, mental diseases, COVID-19 diseases.
Technical solution
1. A special algorithm for calculating the AO values ​​is added to the pressure gauge device and displayed on the monitor.
2. By modifying the program of the processor of the pressure gauge, the data is wirelessly transmitted to the web application to the personal account of the user.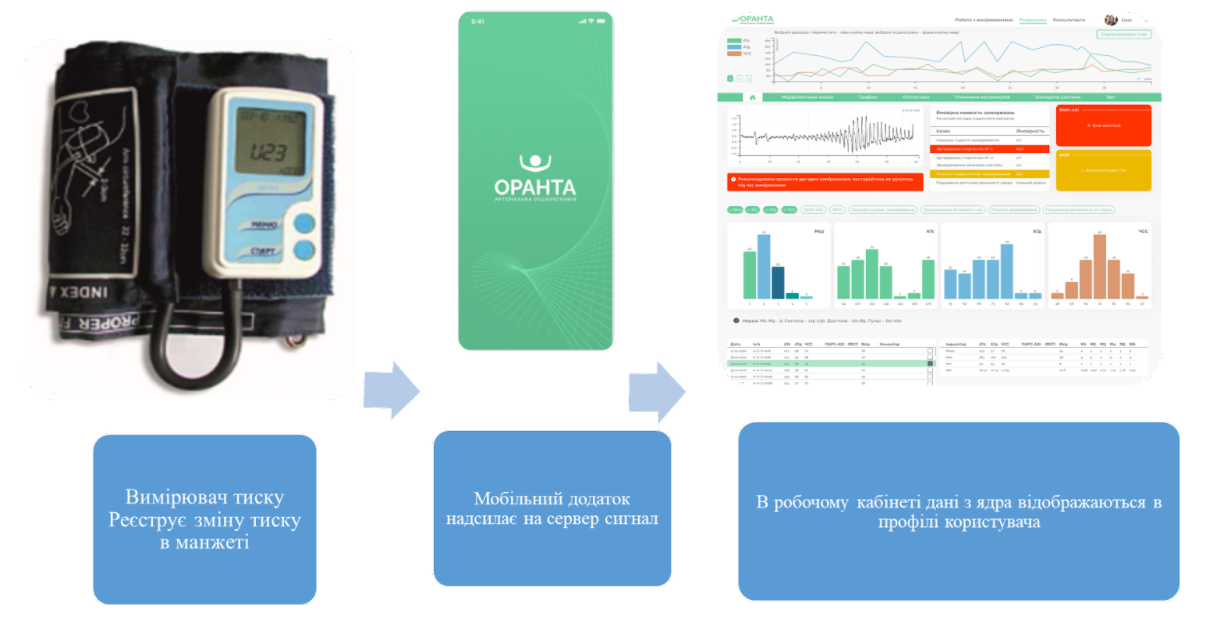 Users
The introduction of the proposed technology in healthcare practice allows to improve the prevention, diagnosis, early rehabilitation and treatment of the cardiovascular system (CVD). Thus, the proposed information technology allows health professionals to expand information about the cardiovascular system of patients, to promote early detection of premorbid and prenosological conditions and helps to plan diagnosis and therapy. They will be useful for general practitioners, pediatricians, cardiologists, neurologists, researchers, in the field of sports and space medicine, patients during mass examinations, when admitting children to physical education classes (Rufier's test). General practitioners (or other users) with an electronic tick meter and software will be able to monitor the condition of the cardiovascular system and peripheral vessels according to the proposed criteria.
MAIN MILESTONES
2010
Start of research, examined 2000+ patients for 10 years
2014
Software development
2015
Obtaining national patents, defense of a doctoral dissertation by the method of arterial oscillography
2020
Receiving a USF grant, filing a PCT priority patent application
2021
Clinical trials and certification
2022
Device manufacturing, patenting and certification in Europe and America